East Midlands AHSN
---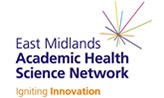 The East Midlands Academic Health Science Network (EMAHSN) covers one of most diverse regions of the UK, including the counties of Derbyshire, Nottinghamshire, Leicestershire and Rutland, Lincolnshire and Northamptonshire.
 EMAHSN works to build partnerships with the NHS, universities, industry and social care to transform the health of our 4.5m East Midlands residents and stimulate wealth creation. We achieve this through:
Promoting health equality and best practice

Speeding up the spread and adoption of innovation into practice

Building a culture of partnership and collaboration

Putting , patients and the public  at the heart of everything we do

Working with industry to promote the adoption and spread of proven products and services.
East Midlands AHSN was the clinical lead on  the Mental Health and Dementia Focus category on the 5th SBRI Healthcare programme.
All successful companies funded by the SBRI Healthcare Programme located in the East Midlands include:
Funding amount received by companies to date- £3,210,587.00
---
Key Contacts:
EMAHSN Managing Director Rachel Munton
EMAHSN Head of Programme Office Margaret Woolley
EMAHSN Commercial Director Chris Hart
Email: emahsn@nottingham.ac.uk
Latest News:
Click here for the latest updates from EMAHSN
Events:
Click here for upcoming events at EMASHN