Competition timeline
Competition Launch
24 August 2021
Deadline for applications
13 October 2021 1:00 pm
Shortlisting
30 November 2021
Contracts awarded
January 2022
Application to the SBRI Healthcare Competition 19 has now closed. Applicants will be notified of the competition outcome when the selection process has concluded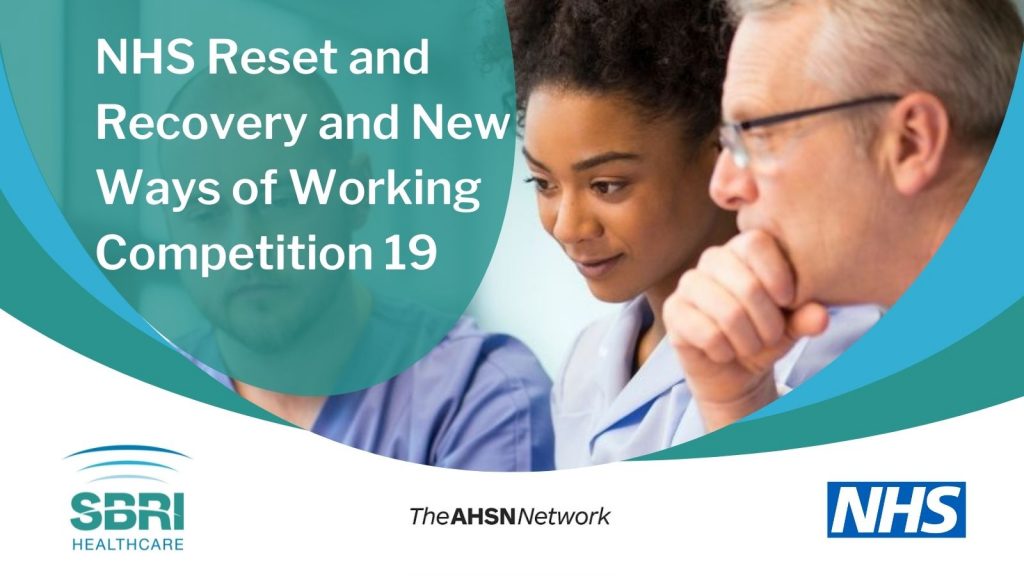 The COVID-19 pandemic has put significant pressure on the NHS, which is now faced with the challenge to recover on the provision of care in all health areas with a backlog on services. Data shows that the vaccination programme is having a significant impact on transmission rates and, coupled with the public's adherence to social restrictions, this means that hospitalisation rates have been drastically falling across all regions and local areas. The pandemic though continues to present us with ever-changing challenges and will undoubtedly remain a challenge for some time to come.
Funded by NHS England in collaboration with the AHSN Network, SBRI Healthcare was delighted to announce a Phase 3 funding competition open to innovations in an advanced stage of development. The aim was to accelerate these innovations into relevant health or social settings, and to facilitate the generation of evidence in Real World settings required by commissioners and regulators to make purchasing or other recommendations/decisions.
The funding competition was open to small and medium sized enterprises (SMEs) and organisations from private, public, and third sectors, including charities.
Applicants were invited to submit innovative solutions to tackle two main challenges:
Reducing NHS workforce pressure
Increasing NHS effectiveness
---
Supporting documents