Competition timeline
Competition Launch
14 June 2022
Deadline for applications
26 July 2022 1:00 pm
Shortlisting
September 2022
Contracts awarded
November 2022
Application to the SBRI Healthcare Competition 21 has now closed. Applicants will be notified of the competition outcome when the selection process has concluded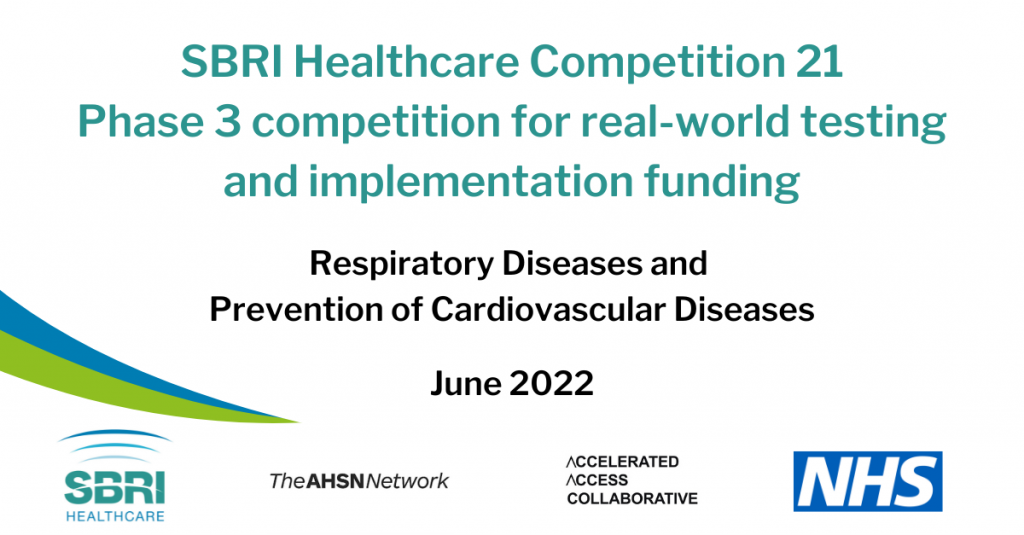 SBRI Healthcare was delighted to invite applications to tender for projects to implement medical devices, in vitro diagnostics, digital health solutions, behavioral interventions, software, artificial intelligence, and new models of care to address challenges in the following themes:
Respiratory diseases
Early diagnosis
Monitoring and management, accessing the right care at the right time
Prevention of cardiovascular diseases
Early detection of high-risk individuals
Improving prevention strategies
Patient empowerment and self-management
Evidence-based and cost-effective interventions often fail to be implemented into routine health and social care practices, a challenge which could be addressed by real-world validation of innovations in their intended setting. Clear articulation of the clinical benefits alongside the costs analysis can facilitate the integration of evidence-based practice. The SBRI Healthcare Programme is committed to supporting the NHS in delivering the objectives of the NHS LTP. In providing funding for implementation studies that generate the evidence necessary for uptake, the access to and reach of innovations will be accelerated for the benefit of patients.
The competition was open to single companies or organisations from the private, public, and third sectors, including charities.
The aim of this competition was to accelerate the delivery of promising innovations in late-stage development into real-world healthcare settings.
This funding opportunity allowed applicants to shorten the gap between research and the uptake of innovations into practice, by building the evidence required for successful implementation.
See the list of Panel members (Respiratory)
See the list of Panel members (Cardiovascular)
---
Supporting documents