Whole-body MRI screening for early cancer diagnosis in Li Fraumeni syndrome
NHS Cancer Programme – Innovation Open Call – Competition 2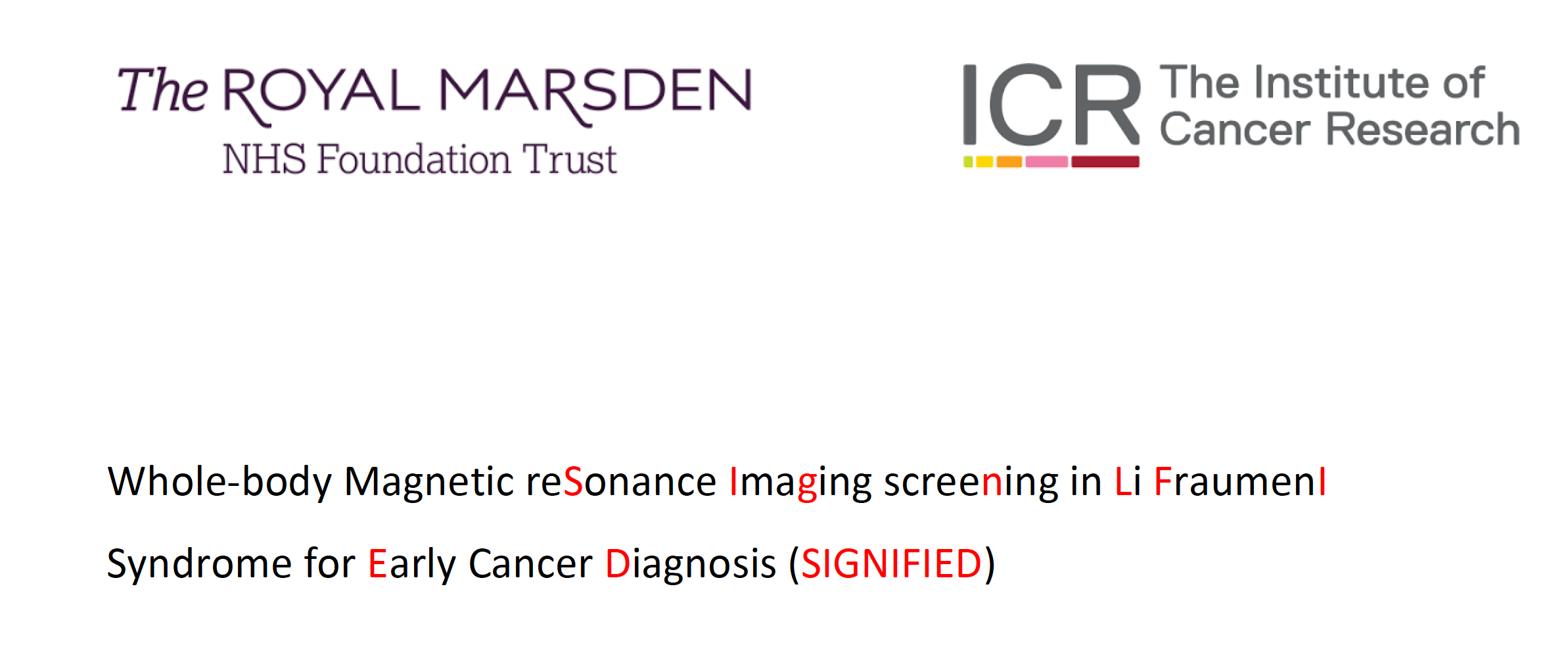 Name & role of Project Lead
Dr Angela George, Principal Investigator, Clinical Director of Genomics and Consultant Medical Oncologist in Gynaecology, The Royal Marsden Hospital
Li Fraumeni syndrome (LFS) is an inherited familial predisposition to a wide range of cancers. This is due to an alteration in the tumour suppressor gene TP53. LFS individuals have a 70-90% lifetime risk of developing cancer, often before the age of 50. The only screening for TP53 mutations in the NHS is annual MRI breast for females, therefore all the other cancers are not routinely screened for. A whole-body MRI (WB-MRI) scan looks at the body from head to toe to find cancers, aiming to detect tumours when these are very early and potentially curable.
We propose that patients with LFS undergo annual whole-body magnetic resonance imaging with diffusion weighting (WB-MRI with DWI) in addition to usual care (e.g. breast MRI and symptom awareness). WB-MRI with DWI is a recent but standard technology within the NHS used more commonly for imaging of multiple myeloma, melanoma and prostate cancer. It is not in routine clinical use in the NHS for inherited cancer syndromes. We have undertaken an implementation pilot as a service evaluation at the Royal Marsden Hospital and have invited 50 patients with LFS to participate. Our aim is to demonstrate that WB-MRI is a cost-effective tool in detecting early tumour and can be established as standard of care of screening in adults with LFS.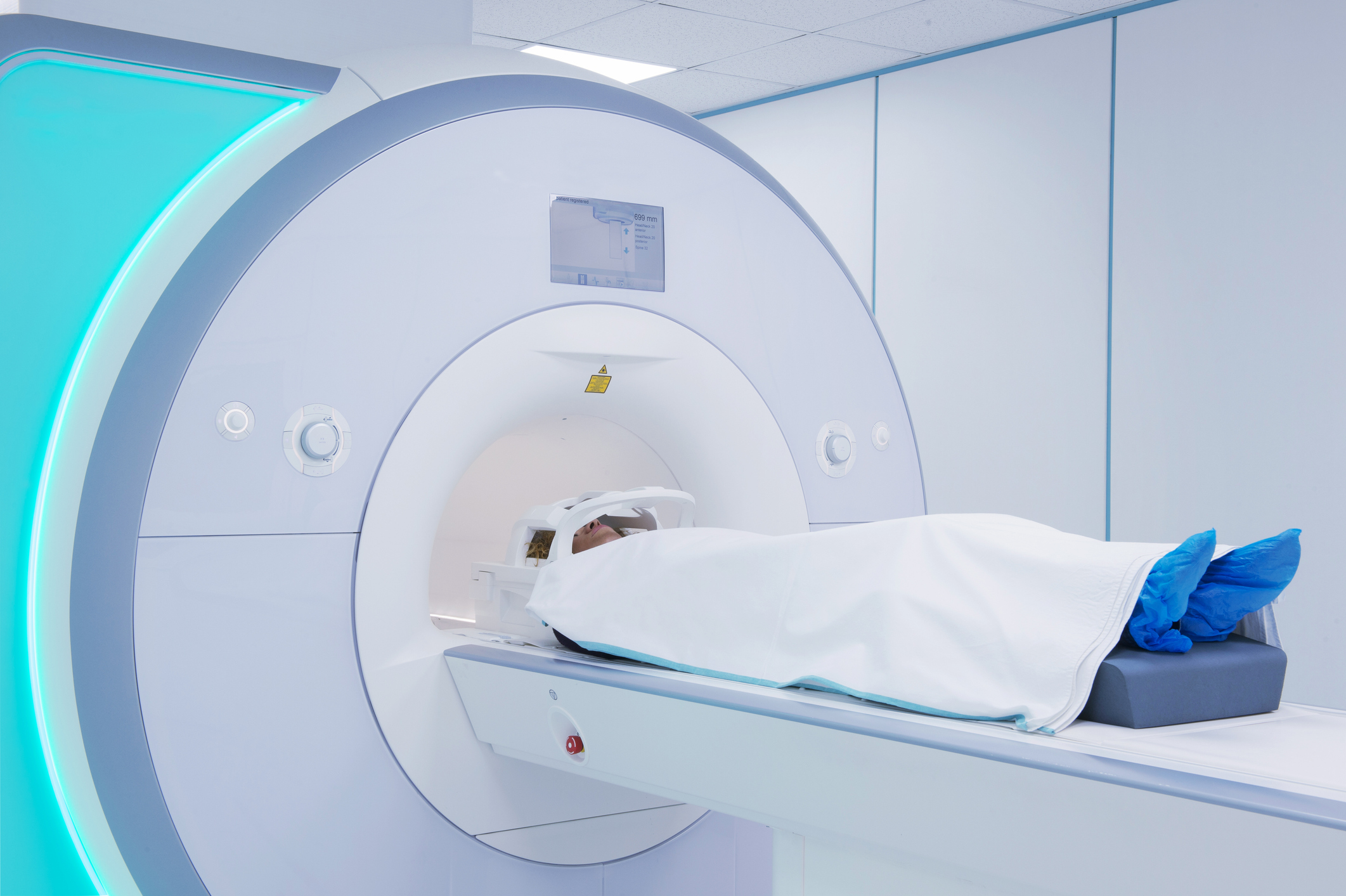 Market Traction & Implementation
• This project is currently running at the Royal Marsden Hospital, a leading cancer hospital in the UK and Europe.
• If our pilot project is successful in demonstrating cost-efficacy of undertaking an annual whole-body MRI in patients with Li Fraumeni syndrome, this examination could be implemented in the NHS and the whole-body MRI could be offered annually to all Li Fraumeni individuals in the UK.
Impact - Early detection & diagnosis of cancer
• The SIGNIFY study published in 2017 (PMID 28091804) has shown that the rate of detection of asymptomatic cancer in Li Fraumeni patients through a one-off whole-body MRI was approx. 10%.
• A large meta-analysis published in 2018 showed that whole-body MRI in Li Fraumeni patients has a detection rate for new, localised primary cancers of 7%.
Impact - Patient outcomes and experience
Early tumours detected by a whole-body MRI have the potential of being treated curatively, meaning that patients' outcomes are excellent when the tumour is diagnosed very early. It has been shown that by diagnosing a cancer before metastasis, cancer-related deaths could be potentially reduced by 15% within 5 years (PMID 32229577). The main cause of death for Li Fraumeni patients is metastatic cancer and often they have more than one diagnosis of cancer throughout their lifetime.
Impact - Service delivery
• Whole-body MRI is a standard technology used in certain cancers (PMID 29334236) but is not routinely used in the NHS for inherited cancer syndromes to detect asymptomatic tumours.
• Many studies have underlined the high sensitivity of whole-body MRI for the detection of organ metastases, especially for prostate, breast and colorectal cancers.
• There have been reports that WB-MRI can modify a patient's treatment by correctly characterising the tumour stage (PMID 28390297), highlighting the increased sensitivity of the whole-body MRI for accurate detection of tumours.
"Whole-body MRI in Li Fraumeni patients has the potential of diagnosing cancers when they are very early, when treatment with a curative aim is still possible. By offering a WB-MRI to this population, which is at very high risk of developing cancers throughout their lifetime, we can improve early detection, offer effective treatments and ultimately a better outcome and quality of life."
Dr E Cojocaru, Clinical Research Fellow, Study Physician
Patient quote
"Li Fraumeni, or more so, cancer, has dominated my family's lives for many years, from growing up not ever knowing my grandmother to losing my sister at the age of 34. I know for a fact that if we had had these MRIs our family history would be so different, and my hope is that with these on offer my family's future will be better. It has, in my opinion, already saved my life this year."
LG, Li Fraumeni patient