What is SBRI Healthcare?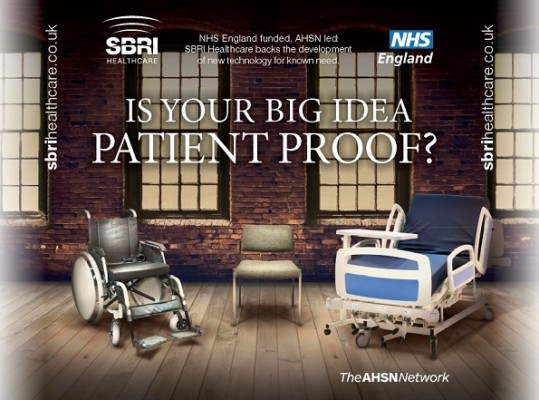 Launched in 2009, NHS East and NHS Midlands were the first regional health authority to develop an Small Business Research Initiatives scheme (SBRI) to find solutions for identified healthcare problems.
Going forward SBRI East worked to bring together business, health, technology and government partners to deliver a series of competitions for businesses to address major unmet health needs.
Unlike many Research and Development projects which offer grant or match funding, SBRI contracts are 100 per cent funded and the inventor retains the Intellectual Property.
As part of Innovation Health and Wealth, the SBRI Healthcare programme sets industry the challenge in a series of health related competitions which resulted in fully funded development contracts between the awarded company and the NHS.
On this site you can learn more about the companies we have supported and find out how you can apply for SBRI funding and support.
The programme today…
• The Small Business Research Initiative (SBRI) Healthcare is an Academic Health Science Network (AHSN) led programme for NHS England, delivering the Innovation Health and Wealth agenda
• The initiative supports a programme of competitions inviting companies to come forward with their ideas and new technologies for known NHS challenges
• These ideas are assessed and a fully funded development contract is agreed between the company and the NHS. SBRI Healthcare monitors the contract – where the NHS is the lead customer
• The SBRI Healthcare programme has two primary-phases that start with an initial identification of unmet need, undertaken by clinicians. Challenges are offered to industry to test the feasibility of their ideas and these projects, if successful, can result in a contract to develop the product
• SBRI Healthcare is a fast track, simplified process that enables the NHS to work with industry to tackle known challenges
• Targeted at SMEs and early stage businesses it gives vital funding for a critical stage of product development
• While the public sector has the right to license the subsequent technology, its intellectual property (IP) remains with the company enabling growth and wealth creation for the UK economy
• Academic Health Science Networks ensure that clinicians specify the challenges whilst making sure the products meet frontline needs
• The programme has supported over 100 companies and awarded contracts for the development of over 30 new products.
What Importance does this hold for the economy and the patients?

Click here  for the full Annual Review
Read successful case studies from competition winners; please visit our case study pages