Competition timeline
Briefing Webinar
22 September 2023 2:00 pm
Drop-in Q&A
24 October 2023 1:00 pm
Applications Open
31 October 2023
Drop-in Q&A
07 November 2023 1:00 pm
Applications Close
22 November 2023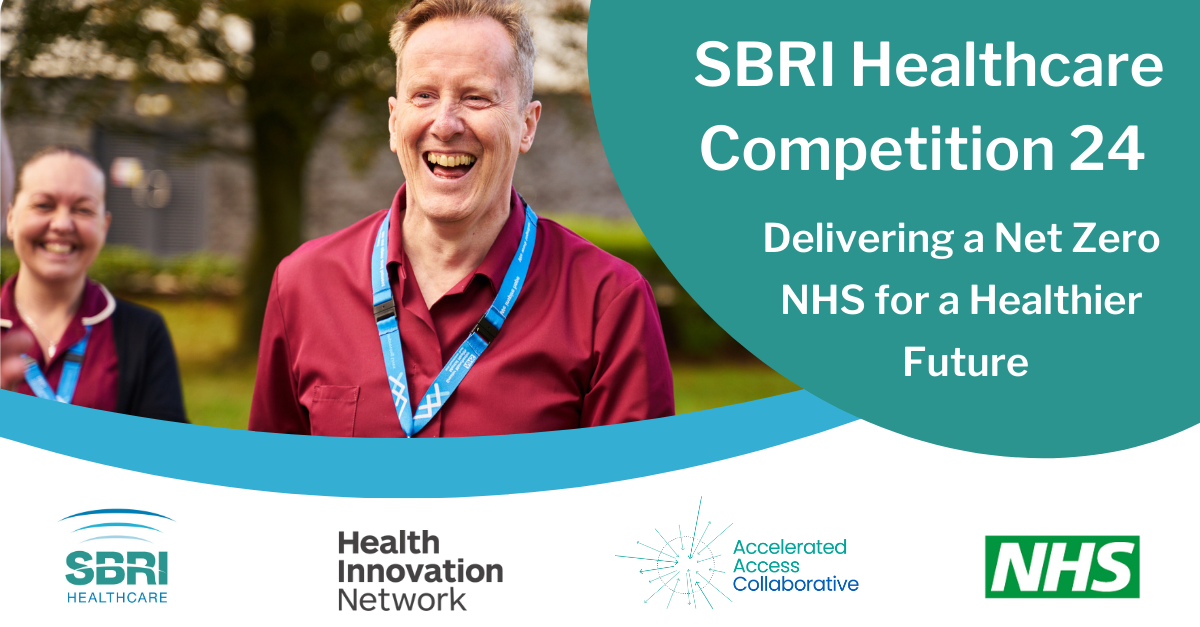 Contributing around 4% of England's emissions, the NHS can make a real difference on a national scale and must tackle climate change at source if it is to deliver on its core purpose: to improve health and care, now and for future generations.
The NHS became the world's first health service to set net zero targets with the 'delivering a net zero NHS' report published in 2020, and the first to embed net zero into legislation, through the Health and Care Act 2022. Since June 2022, every trust in England has put in place a Green Plan, setting out their aims, objectives and delivery plans for carbon reduction.
Since 2010, the NHS has reduced emissions by 30% and more transformation that reduces emissions whilst maintaining and improving quality of patient care is required. Innovation has a significant role to play in supporting the NHS to reach net zero and investing in innovation now will accelerate action and ensure the best outcomes for patients.
The competition seeks applications focusing on:
Challenge category 1: Clinical community engagement

Challenge category 2: Novel business models to enable circularity in perioperative care and critical care settings

Challenge category 3: Net zero transformation across clinical pathways
Applications for SBRI Healthcare, Competition 24: Delivering a Net Zero NHS for a Healthier Future will be open from 31st October and close on 22nd November 2023.
The competition is a standalone competition aimed at early-stage innovations to accelerate the development of greener innovations towards a more sustainable healthcare system.
The early-stage development contracts are for a maximum of 12 months and from £50,000- £100,000 (NET) per project.
PLEASE READ THE COMPETITION 24 FAQs PAGE
The competition is open to single organisations based in the UK or EU from the private, public, and third sectors, including companies - large corporates and small and medium enterprises, charities, universities and NHS providers.
Organisations based outside of the UK or EU with innovations in remit for this competition can apply as subcontractors of a lead UK/EU based organisation or via a UK or EU subsidiary. All innovations should demonstrate a clear benefit to the NHS.
---
Supporting documents