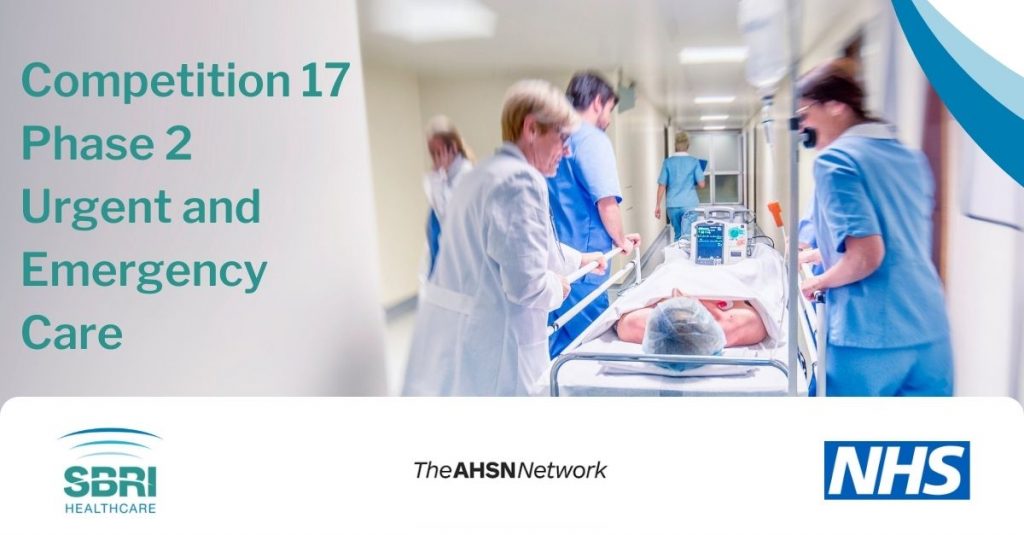 SBRI Healthcare has awarded over £8 million to nine pioneering MedTech innovations in the fields of urgent and emergency care. The funding will be used to fast-track these technologies through the next stages of commercialisation, including the development of prototypes or demonstration units.
These projects were among twelve that were initially identified for phase 1 funding in 2020. This second phase of the competition, launched in collaboration with Health Innovation Manchester AHSN and West Midlands AHSN, will provide the winning innovations with a second round of funding, enabling the demonstration of both technical and commercial viability.
The successful projects range from rapid and sensitive diagnostic devices and tools, more efficient triage or referral systems, training, clinical coaching, and simulation modules to improve skills and diagnosis.
The projects will run for up to twelve months, and aim to develop and evaluate prototypes before further funding is sought for real-world implementation. The long-term aim is for successful technologies to be adopted for use in the NHS and across social care services, where they can provide benefits for patients, the NHS, and the overall community.
Professor Wendy Tindale, Chair of the SBRI Panel and Director of Innovation at Sheffield Teaching Hospitals NHS Foundation Trust and Clinical Director at the NIHR Devices for Dignity MIC said: 'The demand for Emergency Care is seeing unprecedented growth. New innovations offer the opportunity to manage emergency care in a very different way, one which is sustainable and which delivers appropriate high quality care in the right setting and at the right time. The funding from this SBRI Competition in Emergency Care will enable exciting developments in new technology to help manage those with suspected heart attacks, and will support innovations which will help to predict and avoid unplanned admissions and to guide healthcare professionals through complex decisions, enabling advanced and novel ways of training staff and supporting earlier detection and management of health deterioration'.
Funding was awarded to the following projects:
Health Navigator – awarded £936,697: Health Navigator (HN) deploys artificial intelligence on NHS data to identify patients at risk of consuming avoidable non-elective bed days. These patients are then invited to HN's scientifically-evidenced Clinical Coaching programme to help them become more proactive in self-care.
52 North Health – awarded £999,074: NeutroCheck helps rapidly identify chemotherapy patients at risk of a life-threatening complication called neutropenic sepsis. Through better triaging, Neutrocheck has the potential to save thousands of lives, free up valuable healthcare resources, and make patients' lives easier, simpler, and better.
eConsult Health – awarded £998,744: eTriage is a digital triage solution for EDs and UTCs designed to automatically check-in and prioritise (triage) patients upon arrival. The technology will reduce overcrowding in the waiting room and release pressure off the emergency workforce.
Invitron – awarded £895,381: Invitron is developing a portable diagnostic device that utilises state-of-the art chemiluminescence detection to enable extremely sensitive and accurate medical diagnostic tests to be performed quickly and easily at the point of care.
Primum Digital – awarded £999,728: CrossCover is a range of web applications designed to enable our experts to collaborate at scale, consolidate their knowledge and disseminate standardised care into the core workflow of all front-line staff to ensure patients receive the best care every time.
Psyros Diagnostics – awarded £998,855: Psyros are developing a ground-breaking single molecule counting technology that is compatible with point-of-care settings. The system will comprise a small portable reader and disposable cartridge. Our launch product will be for triaging patients with chest pain.
Recourse AI – awarded £860,628: Recourse AI are increasing NHS workforce capacity by cutting the time required to train, assess, and upskill clinicians, pioneering a "flight simulator for healthcare", offering instant feedback on bedside manner, diagnostic, and decision making skills across any patient group.
RAIQC – awarded £697,140: RAIQC is a clinical simulation platform for medical image interpretation. It will be used to train emergency department staff to enable faster diagnosis and treatment within ED leading to improved patient flow and outcomes.
NeuroResponse – awarded £994,828: NeUro is an application enabling people living with long-term neurological conditions to access expert advice 24/7 in the diagnosis and management of urinary tract infections by offering bespoke antibiotics, from the convenience of their homes.