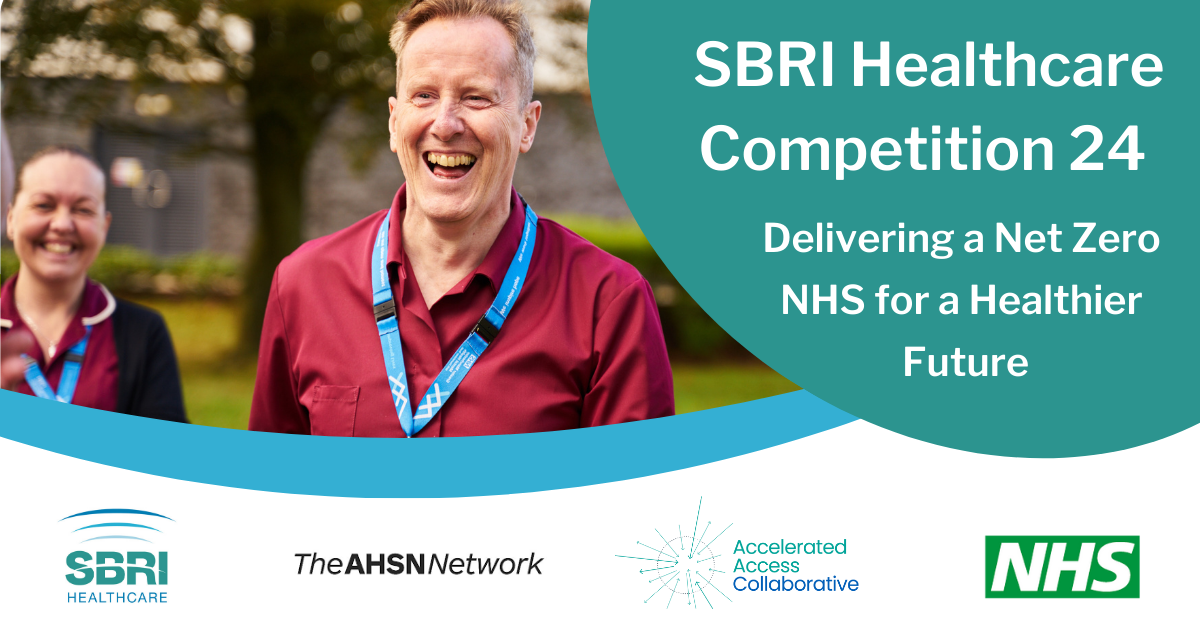 SBRI Healthcare, an Accelerated Access Collaborative initiative, in partnership with the Greener NHS programme and the AHSN Network is delighted to announce a new competition; Competition 24: Delivering a Net Zero NHS for a Healthier Future.
Contributing around 4% of England's emissions, the NHS can make a real difference on a national scale and must tackle climate change at source if it is to deliver on its core purpose: to improve health and care, now and for future generations.
The NHS became the world's first health service to set net zero targets with the 'delivering a net zero NHS' report published in 2020, and the first to embed net zero into legislation, through the Health and Care Act 2022. Since June 2022, every trust in England has put in place a Green Plan, setting out their aims, objectives and delivery plans for carbon reduction.
Since 2010, the NHS has reduced emissions by 30% and more transformation that reduces emissions whilst maintaining and improving quality of patient care is required. Innovation has a significant role to play in supporting the NHS to reach net zero and investing in innovation now will accelerate action and ensure the best outcomes for patients
This competition seeks applications focussing on:
Clinical community engagement
Innovative approaches to engaging and empowering clinical professional and specialty groups to decarbonise their area of work and transition to delivering lower carbon models of care.

Novel business models to enable circularity in perioperative care and critical care settings
Strong partnerships across industry and healthcare providers, also bringing in academia, to enable circular models that will ultimately increase and sustain levels of reuse, remanufacture and material recovery. The NHS is looking to improve access to sustainable, reusable instruments and equipment used in perioperative and critical care and to minimise the amount of waste generated.

Net zero clinical transformation
Innovations that take a holistic view of end-to-end care delivery enabling evidence based, high-quality, outcome driven, low carbon care for all. The competition is particularly interested in high volume care pathways and those known to be carbon intensive.
Applications for SBRI Healthcare, Competition 24: Delivering a Net Zero NHS for a Healthier Future will be open from 31st October and close on 22nd November 2023.
The competition is a standalone competition aimed at early-stage innovations to accelerate the development of greener innovations towards a more sustainable healthcare system.
The competition is open to single organisations based in the UK or EU from the private, public, and third sectors, including companies - large corporates and small and medium enterprises, charities, universities and NHS providers. Organisations based outside of the UK or EU with innovations in remit for this competition can apply as subcontractors of a lead UK/EU based organisation or via a UK or EU subsidiary. All innovations should demonstrate a clear benefit to the NHS.
The SBRI Healthcare Programme Management Office and the Greener NHS team will host an online Briefing Webinar on 22 September 2.00-4.00pm. Sign up here.
__
About SBRI Healthcare
SBRI (Small Business Research Initiative) Healthcare is an Accelerated Access Collaborative funded initiative that provides funding to innovators to develop solutions that tackle existing unmet needs faced by the NHS. The programme aims to improve patient care, increase efficiency in the NHS, and support the UK economy. The SBRI Healthcare team, through support from the Academic Health Science Networks (AHSNs), works closely with clinicians and frontline NHS staff to identify key challenges from within the service, focusing on specific areas recognised as priority by NHS England.
About the Accelerated Access Collaborative
The Accelerated Access Collaborative is a unique partnership between patient groups, government bodies, industry and the NHS. It delivers ambitious programmes to ensure the NHS is in the best place to improve patient outcomes and reduce health inequalities through research and innovation. It does this by identifying the best new medicines, medical devices, diagnostics and digital products. It supports providers and integrated care systems to make them available to patients as quickly as possible. In addition, the AAC supports increasing participation in research and access to research trials. Over 2.2 million patients have benefited from its programmes to date, helping patients spend over 291,000 fewer days in hospital and saving the NHS an estimated £196+ million.
About The AHSN Network
There are 15 Academic Health Science Networks (AHSNs) across England, established by NHS England in 2013 to spread innovation at pace and scale, improving health and generating economic growth. Each AHSN works across a distinct geography serving a different population in each region. As the only bodies that connect NHS and academic organisations, local authorities, the third sector and industry, AHSNs are catalysts that create the right conditions to facilitate change across whole health and social care economies, with a clear focus on improving outcomes for patients.
Greener NHS
Climate change is a health emergency. If the NHS is to deliver on the ambition of the long-term-plan, improving health now and for future generations, it must tackle climate change at source. That's why the NHS became the world's first health system to commit to reaching net zero carbon.
Innovations to reduce harmful emissions are driving better care for patients and delivering value for the taxpayer. Thanks to innovations and the actions of its workforce, the NHS has already reduced its NHS Carbon Footprint emissions by 30% since 2010, ahead of the UK Climate Change Act target.