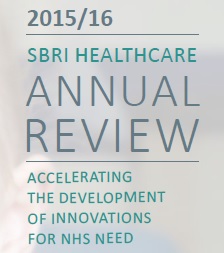 SBRI Healthcare, an NHS England funded initiative to develop products that address unmet health needs, today released its annual report that shows how the programme has created a pipeline of innovations that could bring the NHS £1 billion of savings. The programme has also created over 420 jobs and leveraged £45 million of private sector investment with an economic impact in excess of £78 million.
Programme Director, Karen Livingstone, commented: "We are delighted that the evidence is building that SBRI Healthcare can co-create the solutions to improve patient care and save NHS resources. We have over 100 companies working with the NHS to develop innovations that will transform care and support growing businesses and jobs."
In support of improved patient care the programme is co-developing innovations that will transform the management of debilitating health conditions. For example, Durham-based Polyphotonix, has launched Noctura 400 a sleep mask that uses light therapy to treat diabetic retinopathy where the alternative treatments are highly invasive and unpleasant for patients.
"When I was first diagnosed with retinopathy it was very much doom and gloom. No one could tell me that I would definitely still be able to see my children in 10 years' time. Now, I finally feel hopeful again. I just wish I'd know about the mask earlier before the damage to my eyes happened." Neil (patient), London
The programme has seen a positive impact on the economy and business with over 420 jobs created and £45 million of private investment leveraged on the strength of the SBRI Healthcare backing.
"The Lightpoint team has grown rapidly from just three people in 2014 to a team of 16 in January 2016. We were able to secure commercial investment in our fiberscope on the strength of our SBRI contract – the NHS interest and investment helped investors see that we had customers ready to engage." David Tuch, CEO Lightpoint Medical
The value for the NHS and clinicians is also evidenced with over 72 different clinical and expert managers involved in the assessment process and more than 30 companies initiating clinical trials, to ensure the expert evidence is available.
"The pain toolkit app has been introduced in Leeds to encourage supported self-management of persistent pain. I have introduced this app to several patients who have unanimously provided extremely positive feedback and I am very confident we will see improved outcomes for this cohort of individuals." Jamie O'Shea, clinical lead, Leeds West CCG.
SBRI Healthcare provides funding to companies to solve healthcare problems. This year it has awarded contracts with a total value of £17.5 million to 44 companies. The programme is led by the 15 Academic Health Science Networks – the NHS innovation leaders – to define challenges that would lend themselves to technology solutions and then the SBRI Healthcare team supports the companies to co-create the innovations the NHS needs.