6 Million UK Lung Sufferers Gain Free Access to Activ8rlives Health App: SENSOR II Available on Apple's App Store for iPads
6th July, 2015, Aseptika Limited, Huntingdon, Cambridgeshire:
Lung disease affects one in five people in the UK, causing around 1 million hospital admissions a year and is the third main cause of death in the UK.
Surprised to hear these statistics? There is low public awareness of the extent of respiratory disease and the voice of people with lung conditions is not being heard. Aseptika has developed the SENSOR II App for iPads to help them track and manage their lung disease at home and better communicate with their healthcare workers when they need help.
The SENSOR II App for iPads was developed to support those with long-term respiratory conditions (LTRC) or anyone who wants to record and track a range of cardiovascular and pulmonary health parameters and self-manage their health at home.
The early awareness of signs of lung disease, such as shortness of breath, or persistent cough, are often left untreated. There is a growing consensus that the combination of earlier intervention and better self-management or self-care at home, reduces the number and severity of hospital admissions and increases quality of life of millions of us by slowing the rate at which the disease progresses.
The SENSOR suite of Apps was designed and trialled in our recent clinical trial funded by NHS England, supported by the highly acclaimed Small Business Research Initiative (SBRI) Healthcare programme. The SENSOR II App was designed for use by people of any age, but is especially inclusive for older patients. The colourful user interface, the step-by-step instructions and motivational messages enable the user to collect 41 vital signs, measurements and questions about their daily health, all in less than 10 minutes a day. The response of volunteers (average age 67) on our recent clinical trial has been highly positive.
The SENSOR II App allows those individuals using it as part of their individual self-care plan or volunteer patients enrolled on clinical trials, to see and learn from their longitudinal data, which is displayed as graphs and bar charts overlaying a traffic light-like system, to identify and flag-up "out-of-normal" parameters.
The daily record of their vital parameters enable them to watch for signs of declining health associated with their respiratory disease. The users also record when they have started a course of antibiotics or steroids as part of their ongoing self-care plant at home.
Vitally, the patient can share their data with the entire network of healthcare workers they are supported by, each of whom may work in different parts of the healthcare service.
Other patient self-help groups are also starting to take an interest. Elizabeth Waldock (aged 75) has COPD and runs a charity called "Hunts Breathe for Life" for others in Huntingdonshire who have respiratory diseases and represents a new breed of informed, proactive and activated patients. Waldock commented:
"Whilst we are all aware of the fact that our condition is currently incurable, it is good to know that the technology is available and is capable of improving quality of life. Forewarned is forearmed to promptly treat exacerbations. I also think that we are in a situation where we have to start helping ourselves. Our health service is struggling and the financial pressure under which it operates is unlikely to improve in the immediate future. As things stand at present the patient has little or no say in their treatment. In my opinion, technology not only has the potential to give the patient a level of self-empowerment, but ultimately to be of benefit to both the patient and the health service."
Kevin Auton Ph.D, Managing Director of Aseptika commented:
"Since the publication of the universally welcomed "Five Year, Forward View" blueprint for the NHS, with its focus on patient empowerment, prevention and the use of technology to enable and manage the growing demands on our health services, we have seen almost an overnight increase in interest in our platform. The realisation is growing that now is the time to harness technology to work smarter rather than just harder, to help support the health and wellbeing of our population.
The SENSOR App suite are tools which can be used to facilitate a new partnership between the empowered patient and their clinical teams and compliments the new Activ8rlives v3.0 App, which shares many of the same features as SENSOR I and II but which was designed for use by the consumer."
SENSOR I and II Apps and the Activ8rlives 3.0 App are free to download and use. There is no charge to securely and confidentially store data. The decision to share data with clinical teams remains at the discretion of the patient and is under their control at all times.
Ends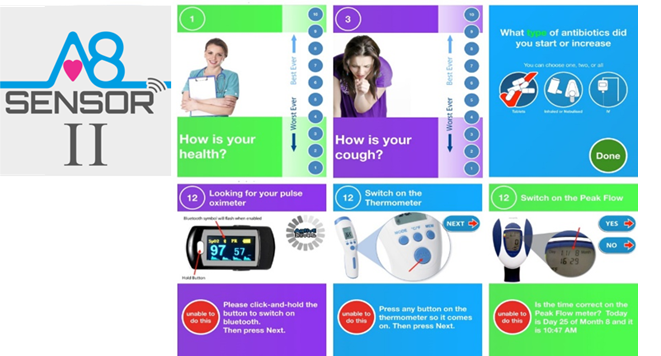 Caption: The newly launched SENSOR II App for respiratory research and self-management of respiratory disease available from the Apple Store for iPads (iPad 3 or above, iPad Mini 2 or above, iPad Air 2 or above running iOS 7.1 or above).
 About Aseptika Limited (Activ8rlives):
Aseptika Limited is a healthcare company developing and marketing an integrated suite of self-monitoring devices and services under the Activ8rlives brand. We are developing integrated systems which can be used by laypeople and their healthcare service providers to better self-manage long-term health conditions (LTHC) through self-monitoring.
The Company's goal is to provide everyone with tools (and the understanding of how to apply them) so that most of us can keep healthy and well for most of the time. Self-management through self-monitoring is the motivation driving what we do.
Activ8rlives is unusual in that we are device agnostic, incorporating sensors and monitors ranging from consumer accessories to in vitro diagnostics (IVDs) with a focus on respiratory disease. All data is held together and can be cross analysed in the Cloud to provide forecasts and learning for the user and clinician.
The Company gained the UK patent in 2013 protecting the invention of a test for biomarkers of Pseudomonas aeruginosa (PA) in the sputum of patients, which can be used to detect the on-set of an exacerbation and profile the efficacy of antibiotic treatment for each patient.
Aseptika won first place in a competition earlier in 2014 to reward the most "Promising eHealth EU SME"eHealth solution 2014developed by an early-stage European SME. The 2014 Competition was organized by TICBioMed and had the endorsement of the Health and Wellbeing Unit of DG CONNECT of the European Commission. The judges commended Aseptika for the integrated approach it was taking in the support of patients with long-term respiratory disease, providing the platform to self-manage their illness through self-monitoring. Central to the Company's "hospital-at-home" concept, is a test in which the patient measures the level of virulence of the bacteria living in their lungs which from time to time, flare into a full and repeated chest infections.
Aseptika was a shortlisted finalist for the Cambridge News Top Innovations 2014 and AXA PPP Health Tech & You Awards. Winner of the Discovery Start-up 2014 Competition run by Cambridge Wireless and Winner of the Hunts Post Huntingdonshire Business Innovation Awards 2014. Named on Global Digital Health 100 Award list, reflecting the importance of mobile and digital solutions.
Wearable Technology Awards 2015 Aseptika was shortlisted in three categories: Best Innovation, Overall Wearable Winner and was placed third in the Best Medical Device category.
Aseptika was granted a patent in the United States and New Zealand protecting its invention for a test for respiratory infections early in 2015.
For more information on Aseptika Ltd, Activ8rlives and products, please visit: www.Activ8rlives.com
Activ8rlives, Activ8rlives.com, BuddyWOTCH and EyKos are trademarks of Aseptika Ltd.
For press information, please contact:
Jessica Auton, Marketing Director
jessica.auton@aseptika.com Direct +44 (0)1480 352 821 Mobile +44 (0)7455 922 122