Activ8rlives to Develop its First Medical Smartwatch for Continuous Monitoring of Oxygenation for UK's COPD Patients
18 December, 2014, Aseptika Limited (Activ8rlives), Huntingdon, Cambridgeshire, UK:
Building on its growing respiratory disease self-management focus, Aseptika Limited announced that is has accelerated the development of its medical wearable Smartwatch, called the BuddyWOTCHTM. This will meet the vital requirement to continuously monitor blood oxygenation levels in Chronic Obstructive Pulmonary Disease (COPD) patients in the home setting. The BuddyWOTCH also integrates other sensors to measure key vital signs and will automatically send data from the wearer to the Company's secure Cloud-based servers via cellular and wireless networks. The BuddyWOTCH will be CE-marked as a Class 2 medical device for Home Use.
The BuddyWOTCH solution will comprise a 24/7 simple to use wrist-worn device, providing continuous monitoring and alerting capabilities. The WOTCH component incorporates medical sensors for capturing: Walking, Oxygenation, Temperature, Chronicle (image capture of medication, food and liquids) and Heartrate. These biometrics will be transmitted without user operation, as part of the Company's Always Connected strategy to de-skill and simplify self-monitoring for people of all ages and capabilities.
Respiratory disease is complex. Patients with COPD also tend to have co-morbidities – typically 3.7 additional health conditions (1,2), especially those who are less physically active (3). The inclusion of pulse oximetry with continuous monitoring of SpO2 (blood oxygen saturation calculated as a percentage) using the wrist-worn BuddyWOTCH has been a significant technical challenge. The Company has now filed two patent applications protecting its inventions.
In COPD, as in other respiratory diseases, exercise improves cardiovascular function, body composition, insulin sensitivity and reduces blood pressure and inflammation (4). Active COPD patients have a higher FEV1 scores (5) and a slower decline in lung function (6) and so motivation to be more active improves health outcomes – all part of the BuddyWOTCH solution. Weight management is also challenging for COPD patients (7) with a higher risk of exacerbations (8) and the Company believes that the BuddyWOTCH will become an indispensable tool in promoting increased physical activity and achieving a healthier weight and more effective pulmonary rehabilitation programmes.
Embedding motivation for behaviour change in daily life is essential (9) for self-management and tools to assist are much in demand as can be evidenced in the rise of activity trackers, which is now a $2billion market (10). Motivation of adherence to physiotherapy, medication, physical activity, healthy eating, and monitoring vital signs are important in maintaining respiratory health for those with COPD. Early diagnosis and intervention are a critical priority for healthcare providers.
The vital signs generated by the BuddyWOTCH will also be combined with data from the Company's patented sputum test, which predicts the onset of lung infections (or exacerbations) in people with long-term respiratory conditions who are chronically infected with the pathogen Pseudomonas aeruginosa, so that they may obtain medical interventions earlier, thereby reducing the sometimes devastating effects of repeated exacerbations.
The need for the BuddyWOTCH was inspired through the Company's experience of working with patient volunteers who have respiratory disease in the SENSOR clinical trial being run with the award winning research team at Portsmouth Hospitals NHS Trust (PHT) and in previous trials working with volunteers who have Cystic Fibrosis. The ability to assess disease progression, reduce the need for a first hospital admission and eliminate readmissions caused by exacerbations or chest infections, is a key aim for the Company and its UK-based employees.
Commenting on the BuddyWOTCH fast-track development project announced today, Kevin A. Auton Ph.D., Co-Founder and Managing Director of Aseptika Limited said:
"Our BuddyWOTCH will become an integrated monitoring and alerting system, wearable for the "rest-of-life" by the most vulnerable patients with respiratory disease. Combining sensors to monitor fundamental vital signs of COPD patients, will enable patients and their carers to learn from their data and to better self-manage this long-term condition. Younger family members are often unpaid carers and this innovation will provide them with confidence 24/7 that their older family members are safe or give the evidence that they require support. Equally important as we age, we all want to remain independent and in our own homes for as long as we are able. We need a new generation of simple tools to help us, our families and the network of our clinical supporters, achieve these goals and reduce the growing pressure on our NHS.
Our solutions will provide "expert" pathways for use by both patient/carers and then GP's and clinicians to inform, manage and report the success of home care plans so that patients can remain independent at home, with a better quality and more sustainable model of care."
£1 million of funding to accelerate the development of the BuddyWOTCH was recently secured through a Phase 2 pre-procurement contract with NHS England's Small Business Research Initiative Healthcare (SBRI Healthcare), managed by Health Enterprise East (HEE) on behalf of the Eastern Academic Health and Sciences Network (EAHSN). The Company intends to deliver its first production units to NHS clinical partners and beta test volunteers by the end of 2015.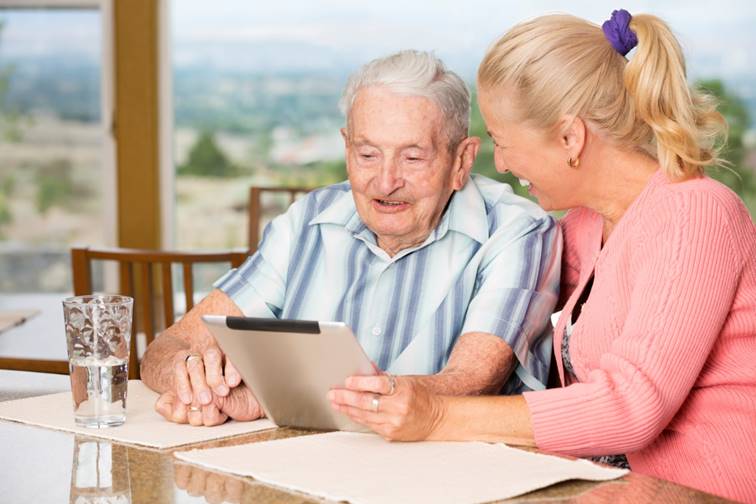 – Ends –
Caption: Caring for our vulnerable, often elderly, patients and family members with respiratory diseases, such as COPD.
References:
1. Prediction of Chronic Obstructive Pulmonary Disease Exacerbation using Physiological Time Series Patterns. Xie Yang et al (2013). 35th Annual International Conference of the IEEE EMBS (2013) Oaska, Japan, 3-7 July 2013.
2. Healthcare utilisation in Chronic Obstructive Pulmonary Disease. A case-control study in a health maintenance organisation. Mapel DW et al. (2000). Arch. Inern. Med. 160(17), 2653-2658
3. Impact of changes in physical activity on health-related quality of life among patients with chronic obstructive pulmonary disease. Esteban C. et al (2006). J. Bras. Pneumol. 32(4), 301-308.
4. Consequences of physical inactivity in Chronic Obstructive Pulmonary Disease. Hartmand, J et al. Expert Rev Resp Med (2010) 4(6): 735-745.
5. Physical activity and public health in older adults: recommendation from the American College of Sports Medicine and the American Heart Association. (2007). Nelson ME et al, Circulation. 116(9), 1094-1105.
6. Regular physical activity modifies smoking-related lung function declines and reduces risk of COPD: a population-based cohort study. Garcia-Aymerich J et al. Am. J. Respir. Crit. Care Med. 175(5), 458-463.
7. COPD as a multicomponent disease: inventory of dyspnoea, underweight, obesity and fat free mass depletion in primary care. Steuten et al (2006). Prim. Care Respir. J. 15(2). 84-91.
8. Nutritional status, dietary energy intake and the risk of exacerbation in patients with Chronic Obstructive pulmonary Disease (COPD). Halin, R. et al (2005). Respiratory Medicine. Vol 100. Issue 3. 561-567.
9. Effectiveness of a lifestyle intervention and a structured exercise intervention in older adults. Opdenacker L et al (2008). Pre. Med. 46(6), 518-524.
10. Pharmafocus, December 2014.
About Aseptika Limited (Activ8rlives)
Aseptika Limited is a healthcare company developing and marketing an integrated suite of self-monitoring devices and services under the Activ8rlives brand. We are developing integrated systems which can be used by laypeople and their healthcare service providers to better self-manage long-term health conditions through self-monitoring.
The Company's goal is to provide everyone with tools (and the understanding of how to apply them) so that most of us can keep healthy and well for most of the time. Self-management through self-monitoring is the motivation driving what we do.
Activ8rlives is unusual in that we are device agnostic, incorporating sensors and monitors ranging from consumer accessories to in vitro diagnostics (IVDs) with a focus on respiratory disease. All data is held together and can be cross analysed in the Cloud to provide forecasts and learning for the user and clinician.
The Company gained a patent in 2013 protecting the invention of a test for biomarkers of Pseudomonas aeruginosa in the sputum of patients, which can be used to detect the on-set of an exacerbation and profile the efficacy of antibiotic treatment for each patient.
Aseptika won first place in a competition earlier in 2014 to reward the most "Promising eHealth EU SME"eHealth solution 2014developed by an early-stage European SME. The 2014 Competition was organized by TICBioMed and had the endorsement of the Health and Wellbeing Unit of DG CONNECT of the European Commission. The judges commended Aseptika for the integrated approach it was taking in the support of patients with long-term respiratory disease, providing the platform to self-manage their illness through self-monitoring. Central to the Company's "hospital-at-home" concept, is a test in which the patient measures the level of virulence of the bacteria living in their lungs which from time to time, flare into a full and repeated chest infections.
Aseptika was a shortlisted finalist for the Cambridge News Top Innovations 2014 awards. Winner of the Discovery Start-up 2014 Competition run by Cambridge Wireless and Winner of the Hunts Post Huntingdonshire Business Innovation Awards 2014. The entries were for our respiratory hospital-at-home solution and biomarker test, which is currently running as the SENSOR clinical trial with a group of volunteer patients that suffer from COPD or severe Asthma in the Portsmouth area.
For more information on Aseptika Ltd, Activ8rlives and products, please visit: www.Activ8rlives.com
Activ8rlives, Activ8rlives.com and BuddyWOTCH are trademarks of Aseptika Ltd.
Small Business Research Initiative for Healthcare (SBRI Healthcare)
The Small Business Research Initiative for Healthcare (SBRI Healthcare) is an NHS England initiative, championed by the Academic Health Science Networks (AHSNs), whose role is to promote UK economic growth by spreading innovation and best practice across the NHS. The SBRI Healthcare competitions are launched on a biannual basis and result in fully funded development contracts between the awarded company and NHS England to meet known healthcare need.
Generally taking a three-phased development approach, projects start with a 6 month feasibility phase and can then move on to more detailed product development. Phase 1 contracts for feasibility testing are valued at up to £100,000 and last for six months. Phase 2 contracts for prototype development are worth up to £1 million over one year. Phase 3 contracts are intended to accelerate product adoption, with up to a further £1 million over 12 months, providing the opportunity for validation in NHS settings. While the public sector has the right to license the resultant technology, its intellectual property (IP) remains with the company, thereby enabling successful businesses to grow.
Funding for SBRI Healthcare has been secured from NHS England. The programme is directed by the Eastern Academic Health Science Network (EAHSN) on behalf of NHS England and the other regional AHSNs. Health Enterprise East (HEE) is the management partner and supports the EAHSN to handle the applications, assessments and delivery against contracts.
Previous SBRI Healthcare competitions have called for technological and innovative solutions to, for example, change of people's behaviour in order to reduce the impact of obesity and alcohol related diseases, how to live well with dementia and improved medicine management. www.sbrihealthcare.co.uk