Activ8rlives Winner of Manage My Condition at AXA PPP Health Tech & You Awards
Activ8rlives has won the prestigious AXA PPP Health Tech & You Award for 2015* in the category of "Manage My Condition" for its healthcare technology and medical devices that focuses on successfully helping people to self-manage their conditions, in particular those 5 million in the UK with long-term respiratory disease.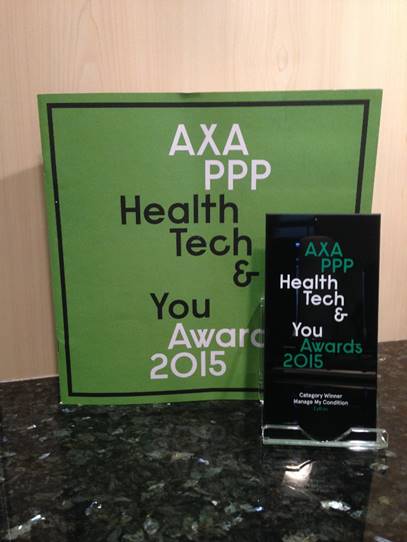 The AXA PPP Health Tech & You Awards were launched and opened to developers, designers and innovators in the field of personal technology, with over 120 entries being received. The finalists were showcased and winners announced at a dedicated exhibition at the Design Museum in London.
The Company's sputum test and vital signs monitors aims to predict flare-ups in chest infections in those who have long-term respiratory conditions with the hope of reducing hospital admissions and improving healthcare. The bacterial test is read by the EyKos unit to predict likely flare-ups within the next 5-14 days.
One of the judges selecting the winner for the category "Manage My Condition", Dr Steven Iley, Medical Director Health Services, AXA PPP healthcare and Chairman of the judging panel commented:
"We looked for technology that would make a difference to patients, helping them to better manage their own health and their condition.
The winner [Activ8rlives] is a fantastic example of the patient taking more control. It moves the care and monitoring back to patient level. This product [Activ8rlives and EyKos] was the most focused on managing a condition and keeping people out of hospital. It demonstrated real benefit to the patient. This clever technology changes the health landscape."
The need for personal responsibility and for us to take a more proactive role in our health is echoed by Gail Beer, Director of Operations of 2020Health:
"The way we practice medicine now is very much that the clinician is in control," she says. "[The rise of health tech] will fundamentally change that relationship because the individual will have much more information at their fingertips about their health and will be able to have a much more objective dialogue with their clinician, rather than just taking the information or advice offered. It makes it more of a joint decision and that represents a real challenge to clinicians who are not used to working in that way."
"We are at the beginning of all this … [The widespread adoption of self-care] requires a shift in the way the NHS delivers care."
Kevin A. Auton, Ph.D., Founder and Managing Director of Aseptika Ltd, commented on the win:
"Measuring an individual's vital signs combined with data from our patented sputum test will greatly assist in predicting the onset of lung infections or exacerbations. The adoption of the Activ8rlives suite of products will reduce strain on both health and social services as they move to a public health focus; the treatment of people with complex, chronic illnesses, or multiple long-term illnesses can often be better managed at home reducing costs, facilitating earlier treatment, reducing the need for hospitalisation, improving quality of care and allowing people to remain independent at home.
The judges' comments echo similar sentiments received from our volunteer patients enrolled on current clinical trials, saying that the process of personal or self-monitoring has been a really positive impact on their lives and it makes it much easier for them to get on with their life knowing how their health is day to day."  
– Ends –
Caption: Winners plaque presented to Kevin A. Auton, Ph.D, Managing Director and Founder of Aseptika Limited (Activ8rlives) for the category of "Manage My Condition" in the AXA PPP Health Tech & You 2015 Awards.
*About AXA PPP Healthcare & You Awards: The shift change of technology supporting personal healthcare has resulted in a unique three-way partnership, each with an in-depth understanding of design, health and technology to create the AXA PPP Health Tech & You initiative. AXA PPP Health Tech & You is a joint initiative of AXA PPP Healthcare, which has been helping people to access healthcare services since 1940; 2020health, an independent, social enterprise think-tank with a mission to 'Make Health Personal'; and the Design Museum, the world's leading museum devoted to architecture and design in an attempt to put the health technology revolution into a wider context for the benefit of patients and consumers. To find out more please visit AXA PPP Healthcare website https://www.axappphealthcare.co.uk/personal/private-health-insurance/
About Aseptika Limited (Activ8rlives):
Aseptika Limited is a healthcare company developing and marketing an integrated suite of self-monitoring devices and services under the Activ8rlives brand. We are developing integrated systems which can be used by laypeople and their healthcare service providers to better self-manage long-term health conditions (LTHC) through self-monitoring.
The Company's goal is to provide everyone with tools (and the understanding of how to apply them) so that most of us can keep healthy and well for most of the time. Self-management through self-monitoring is the motivation driving what we do.
Activ8rlives is unusual in that the company is device agnostic, incorporating sensors and monitors ranging from consumer accessories to in vitro diagnostics (IVDs) with a focus on respiratory disease. All data is held together and can be cross analysed in the Cloud to provide forecasts and learning for the user and clinician.
The Company gained a patent in 2013 protecting the invention of a test for biomarkers of Pseudomonas aeruginosa (PA) in the sputum of patients, which can be used to detect the on-set of an exacerbation and profile the efficacy of antibiotic treatment for each patient in a series of contracts through SBRI Healthcare which funded the research and development
Aseptika won first place in a competition earlier in 2014 to reward the most "Promising eHealth EU SME"eHealth solution 2014developed by an early-stage European SME. The 2014 Competition was organized by TICBioMed and had the endorsement of the Health and Wellbeing Unit of DG CONNECT of the European Commission. The judges commended Aseptika for the integrated approach it was taking in the support of patients with long-term respiratory disease, providing the platform to self-manage their illness through self-monitoring. Central to the Company's "hospital-at-home" concept, is a test in which the patient measures the level of virulence of the bacteria living in their lungs which from time to time, flare into a full and repeated chest infections.
Aseptika was a shortlisted finalist for the Cambridge News Top Innovations 2014. Winner of the Discovery Start-up 2014 Competition run by Cambridge Wireless and Winner of the Hunts Post Huntingdonshire Business Innovation Awards 2014. Named on Global Digital Health 100 Award list, reflecting the importance of mobile and digital solutions.
Wearable Technology Awards 2015 Aseptika was shortlisted in three categories: Best Innovation, Overall Wearable Winner and was placed third in the Best Medical Device category.
For more information on Aseptika Ltd, Activ8rlives and products, please visit: www.Activ8rlives.com
Activ8rlives, Activ8rlives.com, BuddyWOTCH and EyKos are trademarks of Aseptika Ltd.
For press information, please contact:   
Jessica Auton, Marketing Director
jessica.auton@aseptika.com
Direct +44 (0)1480 352 821
Mobile +44 (0)7455 922 122