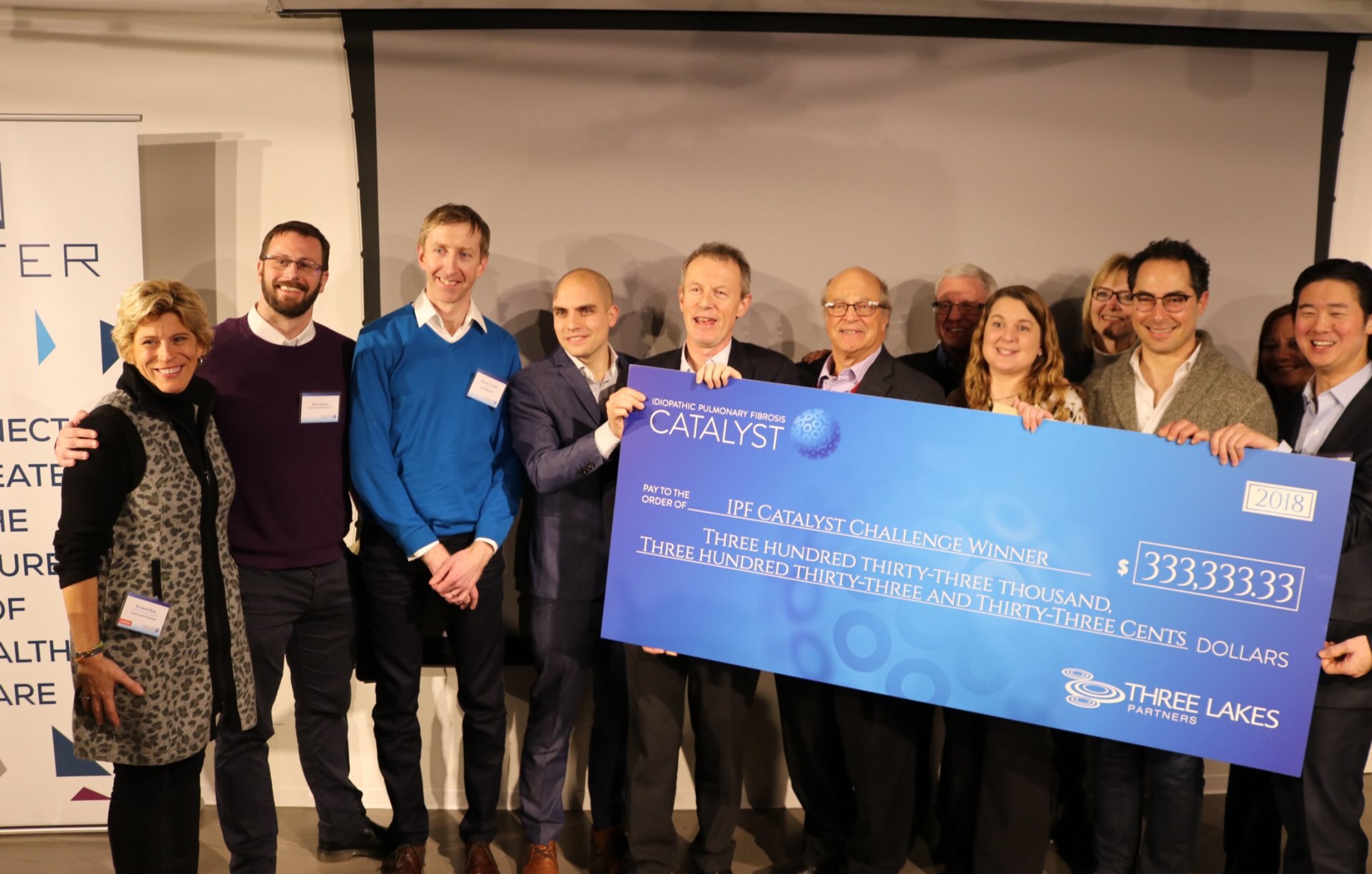 SBRI Healthcare, the NHS England initiative that supports innovative companies to solve healthcare problems, is delighted to congratulate Owlstone Medical on being named one of three winners of the global Idiopathic Pulmonary Fibrosis (IPF) Catalyst Challenge. Out of hundreds of registrants and one of only two UK companies to make it to the short list of nine finalist, Owlstone
Medical flew to Chicago with fellow SBRI Healthcare alumni Cambridge Respiratory Innovations Limited (CRiL) to pitch their proposals for the chance to win a share of the $1 million (£720K GPB) purse.
Owlstone Medical won the $333,333 (£240,000) award with its Breath Biopsy platform, a non-invasive system that can easily and accurately capture and analyse breath samples for the presence of trace chemicals related to disease activity. The proven technology will be applied to find volatile organic compounds (VOCs) in breath that could help speed up diagnosis of IPF, and catch the disease at an earlier stage. This would result in a major improvement for patients by enabling timely treatment and preventing the debilitating loss of pulmonary function.
IPF is a chronic, irreversible and incurable disease that kills as many people as breast cancer every year, however, it is less widely known, resulting in a lack of innovative solutions, funding and research.
Billy Boyle, co-founder and CEO at Owlstone Medical, said: "We are thrilled to win this award which recognizes the potential of our Breath Biopsy platform for the early detection of IPF. Breath Biopsy is already being used in clinical trials for a wide range of cancers, including lung and colorectal cancer, and has recently been integrated into a major clinical development programme for a novel drug candidate for respiratory disease. We look forward to making a similar contribution to the early detection of IPF. We thank SBRI Healthcare for enabling us to embark on this exciting journey and continue to work towards our vision of saving 100,000 lives and $1.5B in healthcare costs."
Karen Livingstone, National Director of SBRI Healthcare, commented: "Congratulations to the team at Owlstone Medical for this great achievement and also to CRiL as impressive finalists. We are so pleased to see SBRI companies from the UK raising their profile in the international markets and being recognised for their advanced and evidence-based innovation. This is a great testament of the NHS England, AHSN Network and NHS practitioners working together to bridge the gap between the creation of new solutions and their adoption in the NHS."
About Owlstone Medical www.owlstonemedical.com
Owlstone Medical has developed a breathalyser for disease. With a focus on non-invasive early detection and precision medicine for cancer, inflammatory disease and infectious disease, the company aims to save 100,000 lives and $1.5B in healthcare costs.
Owlstone Medical's Breath Biopsy® platform is a new diagnostic modality capable of detecting disease biomarkers in breath. The award winning ReCIVA Breath Sampler ensures reliable collection of breath samples. VOC (Volatile organic compound) biomarkers present in breath are analysed with high sensitivity and selectivity using proven microchip chemical sensor technology (Field Asymmetric Ion Mobility Spectrometry, FAIMS).
The LuCID (lung cancer indicator detection) study aims to detect early stage lung cancer using Owlstone Medical's Breath Biopsy technology. The trial will recruit up to 4,000 patients across Europe at 26 clinical sites, making it the world's largest breath-based study ever undertaken for early cancer detection.
Cambridge Respiratory Innovations (CRiL) www.criltd.co.uk
Cambridge Respiratory Innovations' overall aim is to develop an inexpensive self-care respiratory monitor which connects the patient, healthcare professional and care-giver. The N-Tidal device is simple to use and monitors normally exhaled carbon dioxide using innovative III-V mid-infrared LEDs. The device helps COPD and asthma sufferers better manage their health by providing advance warning to them of a deterioration in their respiratory condition.  It also enables healthcare professionals to assess the effectiveness of treatment through periodic review of the data collected. It is hoped users will experience fewer avoidable exacerbations.
About SBRI Healthcare www.sbrihealthcare.co.uk
SBRI (Small Business Research Initiative) Healthcare is an NHS England funded programme that provides funding and support to innovative companies to solve healthcare problems. The SBRI Healthcare team works closely with clinicians and frontline NHS staff to identify key challenges from within the service, focussing on specific areas recognised as priority by NHS England and the 15 Academic Health Science Networks (AHSN). The programme aims to improve patient care, increase efficiency in the NHS, and support the UK economy by helping smaller companies grow.
The SBRI Healthcare programme is based on taking a two-phased development approach. Projects start with an initial feasibility study (Phase 1) and can then move on to detailed product development (Phase 2). Phase 1 contracts for feasibility testing are valued at up to £100,000 and last for six months. Phase 2 contracts for prototype development are worth up to £1 million and can extend over two years. Each contract is 100% funded by SBRI Healthcare and while the public sector has the right to license the resultant technology in certain circumstances, its intellectual property remains with the company.
The programme's network of innovative companies extends throughout the UK. Since launching in 2009, £75 million has been awarded to over 150 companies developing solutions for major NHS challenges such as cancer detection, dementia care, mental health in young people and self-management of long-term conditions. SBRI Healthcare supported companies are already making an impact.
About Academic Health Science Networks www.ahsnnetwork.com
There are 15 AHSNs across England. They connect academics, NHS, researchers and industry to accelerate the process of innovation and facilitate the adoption and spread of innovative ideas and technologies across large populations. They are driven by two imperatives: improving health and generating economic growth in their regions. SBRI Healthcare competitions are designed, supported and promoted in partnership with the AHSNs.