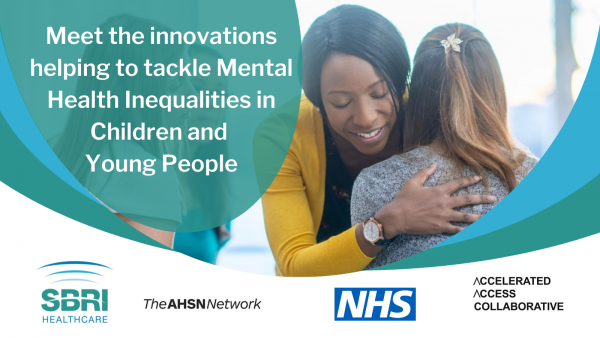 Three successful applicants have been funded through a nationwide call for late-stage solutions to aid improvements in mental health services, enabling access and support for disadvantaged, marginalised or BAME communities. 
The Phase 3 funding call is the first of its kind, focussing on accelerating innovations in an advanced stage of development into relevant health or social settings to facilitate the collection of evidence in real-world settings required by commissioners and regulators to make purchasing or other recommendations/decisions. Attracting applications from a range of organisations, including small businesses, technology start-ups and NHS Trusts, applicants were able to access up to £500,000 over a 9 month project.  
Children and young people of all age groups, and those from certain backgrounds, face unique challenges that are not experienced by adults, which can result in mental health inequalities. In addition, children and young people's mental health services have experienced a significant increase in demand between 2017/18 and 2019/20, with the number of referrals increased by over 50%. The increase in demand meant that more people need to wait longer for care, and an increasing number who are ineligible for the service. 
Competition 19, developed in partnership with the AHSN Network and Accelerated Access Collaborative, was launched to call for proven innovations to help tackle this mental health challenge. 
The projects aim to generate real-world data from at least one site's implementation study, gathering the appropriate evidence to develop their business case for NHS adoption and scale-up demonstrating benefits for patients, the NHS and the overall community.
Matt Whitty, CEO of the Accelerated Access Collaborative said: "The SBRI Healthcare awards are vital in enabling the NHS to foster and introduce high impact innovations to address key NHS priorities. The pioneering technologies we're welcoming today for children and young people's mental health services to enable access and support for disadvantaged, marginalised or BAME communities are great examples of the NHS spearheading the most forward-thinking solutions in the healthcare landscape. I look forward to seeing these innovations develop and impact patients for the better." 
Funding was awarded to the following projects:
BfB Labs's Lumi Nova: Tales of Courage, a therapeutic digital intervention supporting 7-12 year olds facing difficulties and anxiety, awarded £478,850 to run an implementation study in Greater Manchester to optimise intervention for economically disadvantaged children.
Lumi Nova is a regulated evidence based therapeutic mobile game app providing timely, accessible & non-stigmatising support for childhood anxiety (7-12 year olds) based on NICE recommended exposure therapy.
In partnership with Greater Manchester Mental Health NHS Foundation Trust and the University of Manchester, this study will help evolve Lumi Nova by understanding the barriers to uptake and usage for some of the most economically disadvantaged children in Greater Manchester.
Working with Greater Manchester, HiN AHSN.
Brain in Hand – awarded £393,855 – Addressing mental health inequalities by overcoming implementation barriers in mental health support: demonstrating the effectiveness of combining digital tools and human support for neurodivergent people
Brain in Hand (BIH) combines simple digital tools and practical human support for neurodiverse people wanting to live more independently. Co-developed with users, it draws on people's strengths to help them develop skills for self-management. Skilled specialists help the user to identify difficulties and then develop strategies, routines and solutions to overcome them. Stored in their secure BIH online account, these are accessible in the moment via their mobile. The software facilitates mood monitoring and reflection, as well as access to round the clock extra support to help deal with unexpected challenges.
This project will help reduce the inequalities experienced by neurodivergent people aged 16- 25 by offering the proven digital hybrid solution directly to the end user; evidence gathered will demonstrate that social media and online screening is an acceptable, scalable and effective way of engaging often overlooked neurodivergent young people.
Working with South West AHSN.
MeeToo Education Ltd – awarded £431,713 – Improving equality of access to mental health support via digital peer-support.
MeeToo is a multi-award winning, anonymous, fully moderated peer support app that is evidenced to improve mental health in young people aged 11-25. The MeeToo peer support model is helping to address the mental health crisis by teaching young people how to help themselves by helping each other. 
Since launching in 2017 MeeToo has supported 65,000+ young people in the UK. The project will deliver digital peer-support to children and young people aged 11 – 25, with a focus on engaging boys, those from black/asian or minority ethnic communities and young people who are LGBT, autistic or have learning difficulties in the Greenwich area. 
Working with Health Innovation Network (South London) AHSN.