DERM, UKCA Class IIa AIaMD, enabling early diagnostic skin cancer assessments in the community
NHS Cancer Programme – Innovation Open Call – Competition 2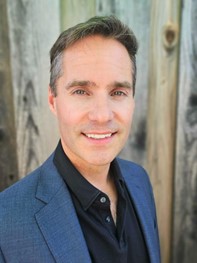 Name & role of Project Lead:
GPs see over 13 million patients annually for dermatological concerns resulting in more than a million referrals to secondary care. About half of these are urgent suspected skin cancer referrals of which only
8% will be diagnosed with melanoma and squamous cell carcinoma, the majority of patients having been referred for benign skin lesions. Nationally, urgent suspected skin cancer referrals are increasing by more than 11% each year and this growing demand for dermatology appointments is placing significant pressure on the workforce, already dealing with 250 unfilled consultant posts.
DERM is an AI device that can be utilised to triage and assess skin lesions for cancer. DERM is the only class IIa certified AI Dermatology medical device in the UK. Since launch in April 2020, it has analysed >60,000 cases across 13 NHS pathways. Patients will be screened in Community Diagnostic Hubs using DERM to obtain a highly accurate skin lesion assessment, without the need for a face-to-face appointment. Ease of access and the ability to obtain a highly accurate assessment closer to home will encourage patients to present earlier with a concerning skin lesion. The specific urgent suspected cancer referral pathways will be adapted to the needs of the local clinical service and patient population.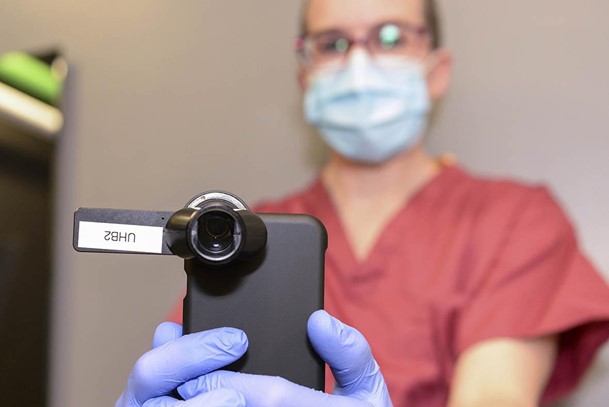 Market Traction and Implementation
Skin Analytics has conducted over 67,000 skin cancer assessments since launching. Our first service was
remote skin cancer assessment service for Vitality Health which has since been expanded to cover Bupa members.
• Launched the world's first AI skin cancer pathway with University Hospitals Birmingham in April 2020.
• Has enabled over 12,000 of potential urgent suspected cancer referrals to be discharged while finding more than 5,300 cancers. Skin Analytics has gratefully received both an AI in Health and Care Award and an NHS Cancer Programme SBRI Healthcare Award to deploy our technology across the NHS.
• DERM is now live or launching with 13 NHS organisations across both primary care (pre-referral) and secondary care (post referral), including the following Community Diagnostic Hubs:
-- Lancashire & South Cumbria ICB CDH, Herefordshire & Worcestershire ICB CDH, and Suffolk and North East Essex ICB CDH - Supported by SBRI Healthcare.
-- Other sites: University Hospitals of Birmingham CDH, Mid Cheshire Hospitals NHS Foundation Trust, Ashford & St Peter's NHS Foundation Trust, University Hospitals Bristol and Weston NHS Foundation Trust, Chelsea & Westminster NHS Foundation Trust, University Hospitals of Leicester NHS Trust, University Hospitals of Birmingham NHS Foundation Trust, West Suffolk NHS Foundation Trust, Royal Devon University Healthcare NHS Foundation Trust, University Hospitals of Morecambe Bay NHS Foundation Trust.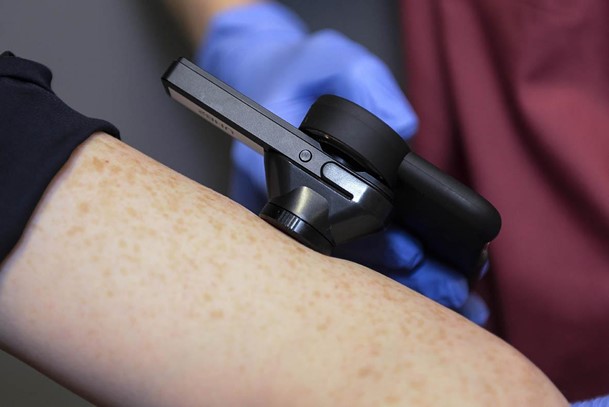 Impact - Early detection and diagnosis of cancer
We expect our innovation will improve early diagnosis of skin cancer by:
• Encouraging patients to present early.
• Increasing melanoma sensitivity at the first review to the level of a skin cancer specialist.
• Supporting the mismatch between dermatologist capacity and demand.
Evidence:
• Demonstrated through prospective clinical studies and in real world clinical settings, DERM can recognise melanoma with a similar accuracy to skin cancer specialists. It can be used to support more patients to be reassured that they do not have skin cancer, saving unnecessary extension of anxiety, but also reduce the number of unnecessary referrals into dermatologists so that they can focus on the patients who need it most. Our most recent performance report demonstrated DERM was performing as expected with a malignancy sensitivity >97%.
• DERM helps to support better triage of cases that warrant specialist review and onward referral to biopsy or excision. DERM has identified over 40% of urgent suspected cancer referral cases assessed in secondary care as suitable for discharge, leaving a smaller case volume requiring specialist review. Our most recent performance report showed that DERM is 99% accurate in ruling out skin cancer.
DERM will provide communities with specialist level assessment, increase the proportion of cancers
found in the referral population, and reduce the number of skin cancers inappropriately referred on routine pathways, thus speeding up skin cancer detection.
Impact - patient outcomes and experience
Chelsea & Westminster saw their average wait time from urgent suspected cancer referral to
appointment fall from 14 days to 3 days. West Suffolk Hospital saw their average wait time from urgent suspected cancer referral to appointment fall by 4.9 days. University Hospitals Birmingham have met the urgent suspected cancer referral target every month since April 2021.

Chelsea & Westminster saw a 10% reduction in biopsies.

83% of patients at Chelsea & Westminster would recommend the service to friends and family.
Impact - Service delivery
• Our latest DERM performance evaluation showed that DERM found >97% of cancers while potentially removing up to 42% of cases assessed from the urgent suspected cancer referral pathway.
• Skin Analytics pathways using DERM in secondary care have identified 40% of cases assessed as being eligible for discharge which had previously been referred in by GPs. This has wider benefits for all NHS dermatology services since AI can support clinical assessment and truly release clinical capacity for both urgent skin cancer referrals and routine dermatology referrals.
"The service is helping us to safely triage patients to the next appropriate step in their care. Patients with benign lesions can be seen closer to home for their photographs and given the reassuring news that they do not have cancer more quickly."
Dr Elizabeth Roberts, Dermatology Consultant, University Hospitals of Leicester NHS Trust
Patient quote
"I am impressed with my treatment. The suspicious growth was excised 48 hours ago only 7 days after seeing my GP. I now await the results of dermatological analysis."
Patient
Patient quote
"If you could describe a perfect NHS appointment end to end, then it would have been this appointment. Seen in a day and reassured a few days later. Thank you."
Patient