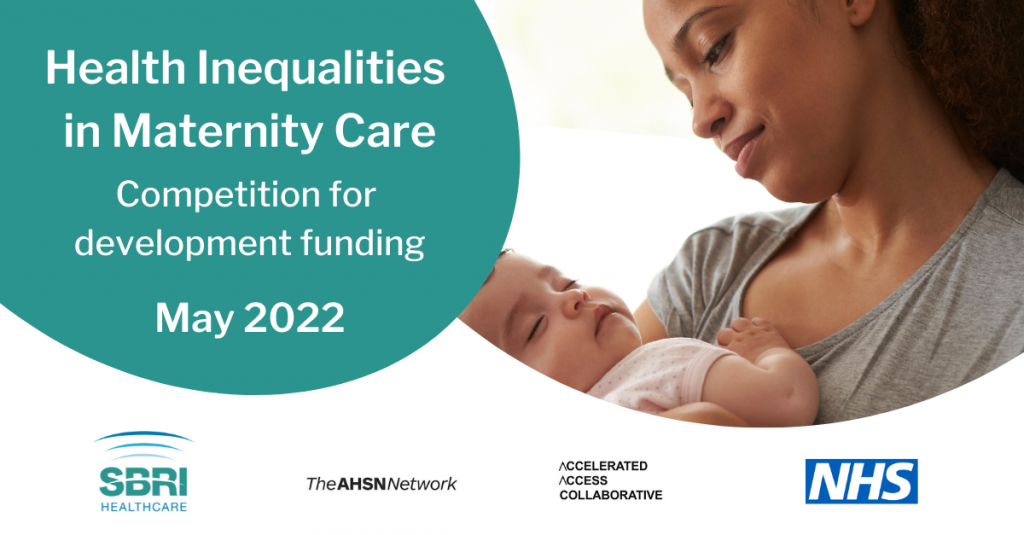 ---
To apply for this competition, please log in via our Application portal 

---
While the UK remains a comparatively safe place to give birth, maternity care is challenged by growing health inequalities, with women from minority ethnic groups and those living in the most socially deprived areas more likely to experience adverse outcomes of pregnancy. 
Women from ethnic minority groups are more likely to die during pregnancy and childbirth and are also at increased risk of poor pregnancy outcomes including stillbirth, miscarriage, and pre-term birth. 
Funded by NHS England and NHS Improvement and in collaboration with the Accelerated Access Collaborative and AHSN Network, SBRI Healthcare is pleased to announce the opening of Competition 20 for funding innovations to support Maternity Care.
Under the Health Inequalities in Maternity Care challenge, three categories have been identified via consultation with clinicians, nurses and midwives, as well as other stakeholders working in provision of care across the maternity care spectrum.
Applicants are expected to respond to one of the three categories:
Perinatal Mental Health 
Support to Women post-discharge 
Risk identification, stratification, and intervention
The competition is open to single companies or organisations from the private, public, and third sectors, including charities. The competition runs in two phases (subject to availability of budget in 2022/23):
The SBRI Healthcare Programme Management Office is available to answer any questions you may have about the competition and starting your application. Please listen to the briefing webinar.

Further information and supporting documents are available below and more will be added as they become available: